Michael was one of the greatest champions of the Liverpool School of Architecture. Over the years of his association with the School; as a critic, as external examiner, and as visiting professor, he cemented a relationship that lasted until the end of a very active and intellectually engaged life.
His unstinting faith in humanity, and his life-long curiosity about everything creative that the human mind could offer, made him believe that Architecture retained the everlasting possibility of producing culturally inspired and socially relevant environments and settings. Always supportive of students' work, at reviews Michael delighted in discussing the playful potential of Architecture, its diverse forms and spaces. Combined with his extensive knowledge of the architectural culture and his sharp intellect, this made his critique of student work a performance of great scholarship and creativity to behold. Michael was ever generous and respectful of the younger colleagues and would always acknowledge divergent viewpoints and was always up for a constructive debate and had the great ability to bring together diverse ideas into delightful simplicity and clarity.
Born in Surbiton, Surrey, in 1938, Michael studied at the Kingston Technical School from 1950 to 1955 and at the School of Architecture of the Polytechnic of North London from 1955 to 1963. He joined Stirling and Gowan as a senior assistant in 1960 and in 1971 he became a partner in Stirling's firm, later Michael Wilford and Partners from 1993 to 2001; in 2001 he was granted the award of Commander of the British Empire. His work over his many years with James Stirling includes internationally acclaimed buildings such as the Staatsgalerie in Stuttgart (1977-84) and the WZB in Berlin (1979-87); later works are the Lowry Centre in Salford, Greater Manchester (1991-2000) and the British Embassy in Berlin (1994-2000).
The photograph, taken in 1999, of him in the Fitzroy Square office, is the National Portrait Gallery's collection; between 2008-2010 he was interviewed for the National Life Stories of the British Library.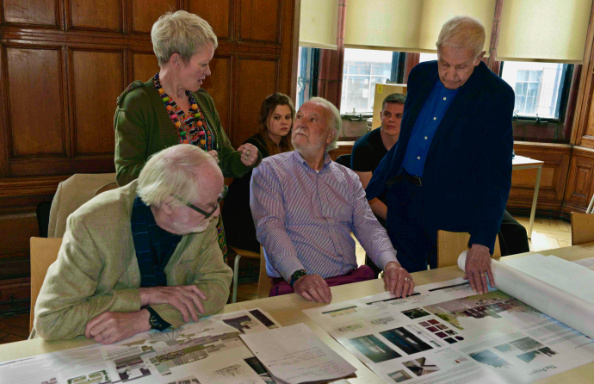 Michael judging the competition entries for the new LSA with Maria Balshaw, Kenneth Frampton and Juhani Pallasmaa
"He is a visiting professor at the Liverpool School of Architecture. This is his favourite school of architecture" records Wikipedia. It reminds us of Michael's relationship with our staff and students. If you have a memory that you would like to share, please send your text to martinw@liverpool.ac.uk and we will publish it.
Main Image: British Embassy in Berlin, worm's eye view axonometric